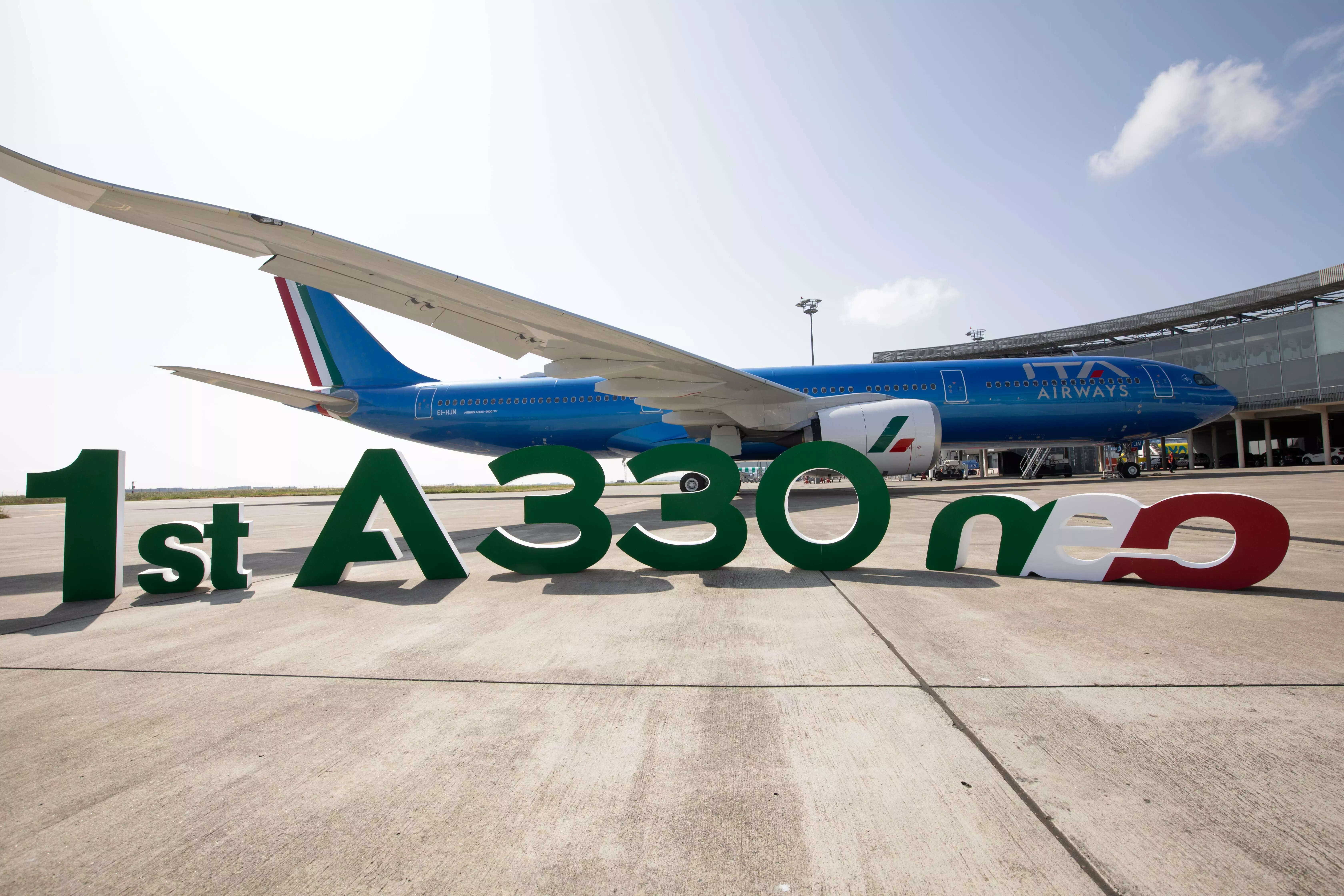 ITA Airways celebrated the delivery ceremony of its inaugural Airbus A330-900 at the Airbus Delivery Center in Toulouse. Notably, the delivery flight from Toulouse to Fiumicino will be powered by a blend of sustainable aviation fuel, showcasing the airline's commitment to environmental responsibility.
ITA Airways expressed that this acquisition of the A330neo reinforces its commitment to an all-Airbus fleet, adding to the already substantial number of Airbus aircraft in operation.
The A330neo will commence operations in June, connecting ITA Airways to new intercontinental destinations and contributing to the airline's growth and expansion plans.
Dedicated to Italian sports champion Gelindo Bordin, the A330neo represents ITA Airways' strategy of honoring renowned athletes with their distinct liveried aircraft. According to the airline's statement, the A330neo stands as a technological masterpiece, featuring the award-winning Airspace cabin renowned for its comfort, increased space, and advanced entertainment and connectivity systems.
The cabin offers a three-class configuration with business, premium, and economy classes, each designed to provide maximum passenger comfort.The designer Walter De Silva has meticulously crafted the interior spaces, blending the stylistic features of ITA Airways' brand identity. The use of natural materials, colours and attention to detail create a serene and elegant ambiance. The lighting system, with its six different scenarios, enhances the journey experience, from boarding to in-flight relaxation.
Passengers can enjoy a state-of-the-art in-flight entertainment system, with high-resolution touchscreen displays and a wide range of on-demand content.
In the context of ITA Airways' commitment to sustainability, the A330neo plays a significant role in the airline's Sustainability Plan, aiming for an 80 per cent new-generation aircraft fleet by the end of 2026. With its fuel efficiency and reduced CO2 emissions, the A330neo contributes to the company's goal of becoming Europe's greenest airline.
Equipped with Rolls-Royce Trent 7000 engines and aerodynamic innovations, the A330neo can fly non-stop for impressive distances, claimed ITA.
The inauguration event, attended by industry figures including representatives from Airbus, Rolls-Royce, and Air Lease Corporation, marked the introduction of the fully configured A330neo into ITA Airways' fleet.
Speaking on the occasion, Francesco Presicce, Chief Technology Officer of ITA Airways, expressed his excitement about the partnership with Airbus and the aircraft's new cabin design, emphasising the collaborative efforts to create a modern, comfortable and fuel-efficient travel experience.