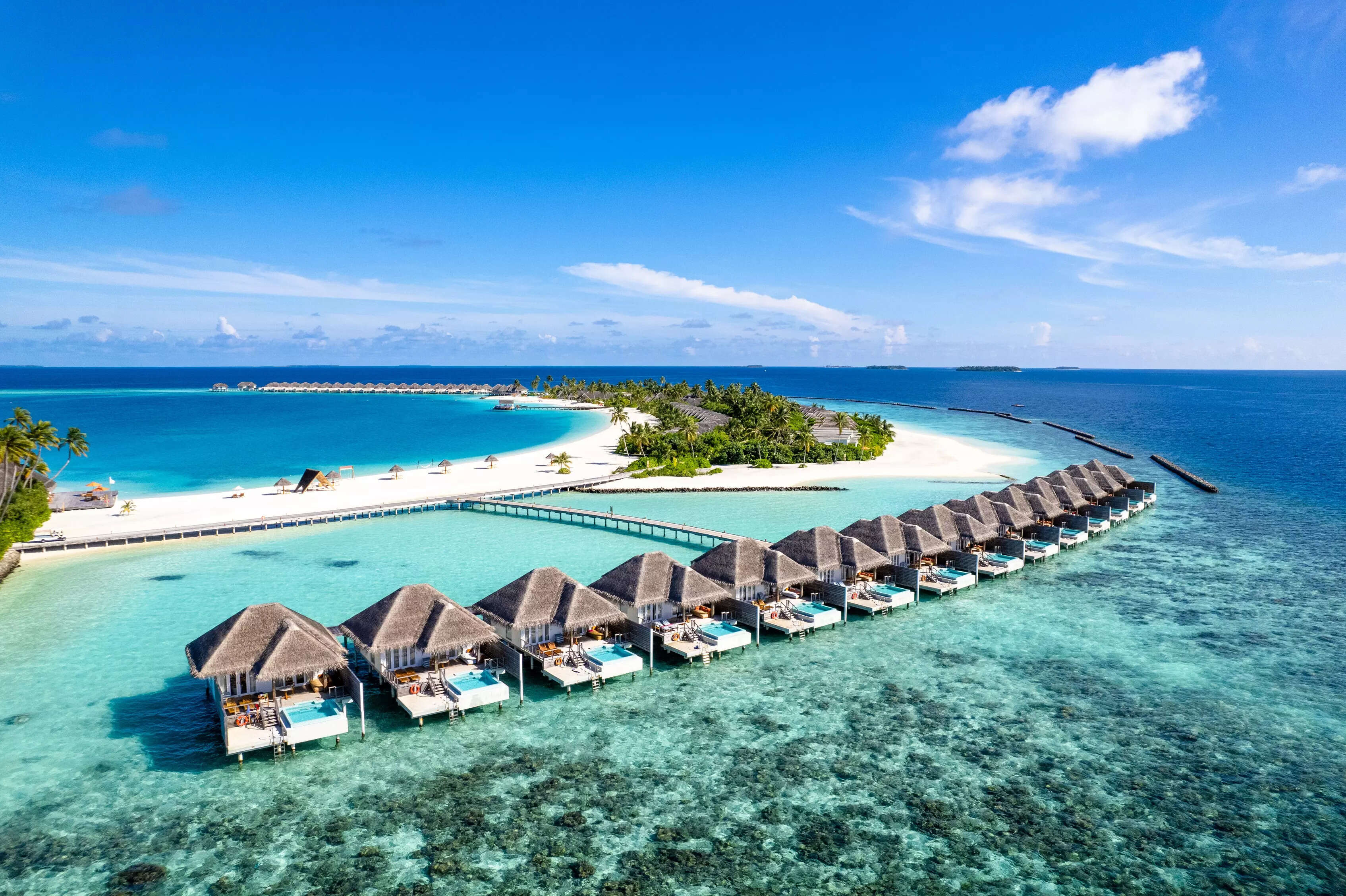 Sun Siyam Iru Veli, an idyllic barefoot luxury resort located in the Dhaalu Atoll of the Maldives, has observed about 30 per cent of visitors from India in 2022.
According to Ahmed Naufal, Cluster Director of Sales & Marketing for Sun Siyam Olhuveli & Sun Siyam Iru Veli and Head of Sales & Marketing at Sun Siyam Resorts (Asia, Africa and Middle East), there has been a shift in the type of Indians visiting the resort in the past couple of years.
The Indian market is not only limited to honeymooners anymore, as the resort is seeing an increase in incentive groups holding important meetings, destination weddings, friends and groups of friends gathering for holidays together, and even larger family events, he informed.
"Though, since other countries have opened up to international travellers, we noticed a decrease in the number of visitors to the Maldives and Sun Siyam Iru Veli in general, compared to Covid times in 2022/2021, where we had also initially seen a drop in the demand for high-end resorts."
"However, 2023 looks exactly like 2019 where we can see the travel patterns going back to normal," Naufal added.
Sun Siyam Olhuveli Maldives and Siyam World Maldives, the other properties under the umbrella of Sun Siyam, are still benefiting from a good market share from India, whereas there has been a drop in the travel patterns for the high-end spenders from India in the more luxury sectors.
Despite this, Naufal pointed out that Sun Siyam Iru Veli has seen an increase in demand and interest for unique travel experiences such as swimming with whale sharks, spotting dolphins on cruise safaris, or diving adventures. "Sun Siyam Iru Veli has always been a resort that has attracted the travellers for its uniqueness and been sold through word of mouth," he asserted.
The other dominating markets for the resort are guests from the UK, the US, Russia, Italy, and Serbia, stated Naufal.
Sun, sand, sea and sustainability

Sun Siyam Resorts is reflecting values around sustainability at the heart of the company, through its very own company-wide sustainability program called Sun Siyam Cares, which was developed to care for the earth, but also for the community and the people within and around the organisation. The group is committed to the preservation of local heritage and sustainability and works together with local islands to protect various species and engage in activities such as coral planting, reef cleaning, tree planting, and bio-farming.
At Sun Siyam Iru Veli, the guests can actively "make a difference" and leave the stunning Maldives knowing that they had the experience of a lifetime, but also made an impact, said Naufal. For instance, guests can participate in the resort's biodiversity conservation program with in-house marine biologists, to assist in the creation and restoration of new coral reefs in the lagoon. They work together with guests to collect damaged coral and replant it on metal frames.
The Farm Islands at Sun Siyam Iru Veli is a place where guests can meet the farmers and learn about the produce grown that consists of over 38 varieties of fruits and vegetables that are supplied to the resorts.
When it comes to advising other hospitality companies proposing the development of over-water villa projects in India's coral-dominated regions, Naufal suggested operating and building sustainably.
"Like us at Sun Siyam Resorts, companies need to prioritise sustainability through initiatives such as reducing energy and water use, managing waste to reduce plastic use, supporting community development, and investing in renewable energy. We also focus on conservation efforts and work to preserve local heritage and cultural practices. By following these sustainability practices, we aim to minimise our environmental impact, carbon footprint and contribute to the socio-economic well-being of the communities in which we operate," he added.
What's in store for the resort guests?

Sun Siyam Iru Veli is one of the luxury resorts under Sun Siyam Resorts, known for its exceptional hospitality. From lavish accommodations, including over-water Ocean and beachfront villas, featuring private pools, to spacious living areas, around three international cuisine restaurants, two beachfront bars, a wine cellar and endless breathtaking views, Sun Siyam Iru Veli is awe-inspiring.
Nestled in its private lagoon on the island and within the enchanting Dhaalu Atoll, Sun Siyam Iru Veli awaits just 35 to 40 minutes away by seaplane from Malé's Velana International Airport. As guests of Sun Siyam, while awaiting their transfer, they are treated to exclusive access to a private lounge at the seaplane terminal. The protected lagoon around the resort teems with vibrant marine life, including playful dolphins, stingrays and whale sharks.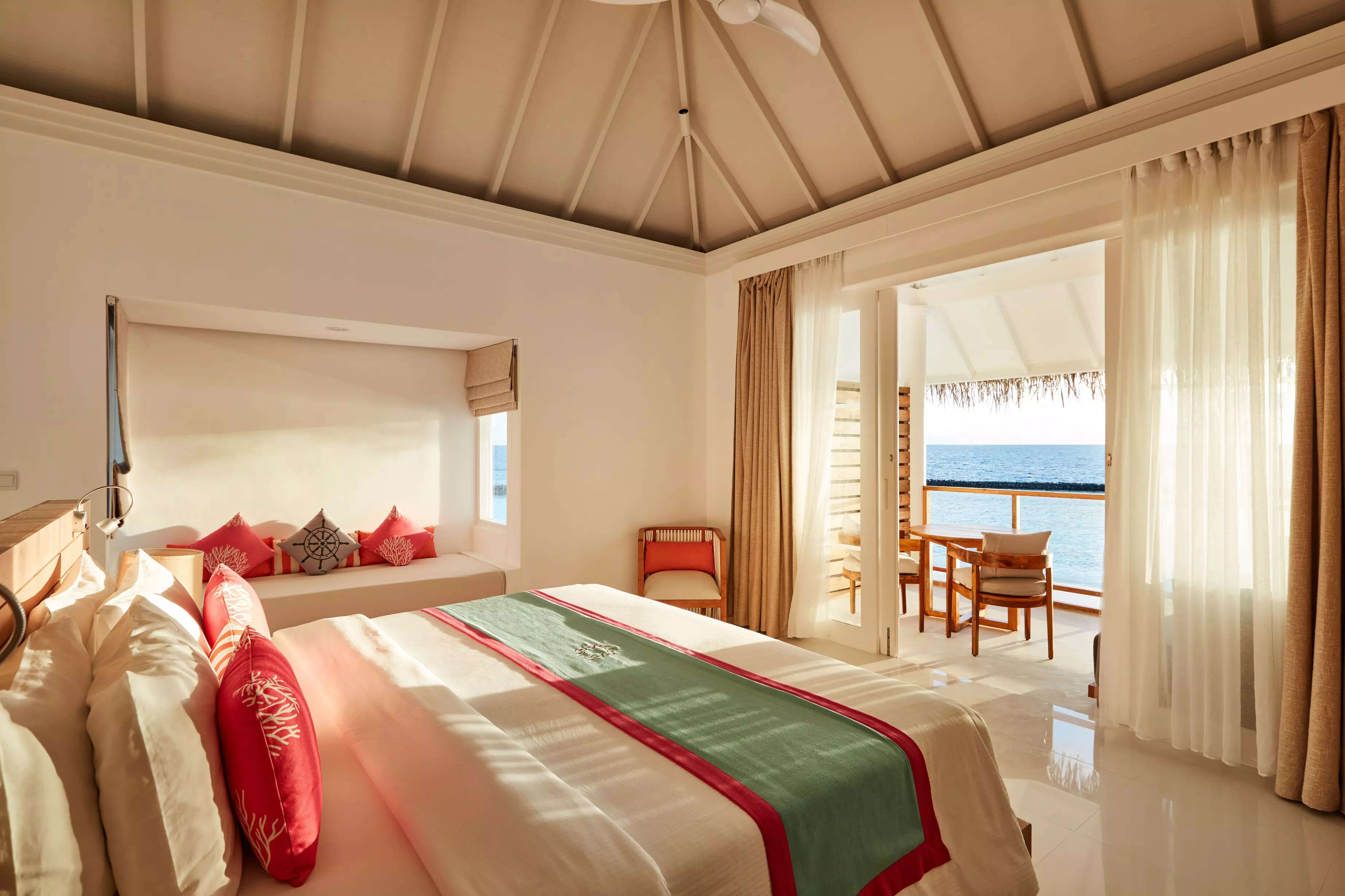 As you settle into this slice of paradise, the 125 exquisite suites, with almost nine subcategories, mesmerise you with the front-row lagoon views, allowing you to wake up to the beauty of the Maldives every day. Almost every suite, regardless of its location, provides a private pool along with the convenience of outdoor bathrooms and showers for a unique and more private experience.
The resort boasts a range of facilities to enhance your stay, including a dedicated kids' club, and two inviting swimming pools that create an illusion of blending seamlessly with the vastness of the Indian Ocean. Wellness facilities such as Ocean spa, fitness center and morning Yoga sessions are also available for rejuvenation.
For adventure and diving enthusiasts, there is a PADI dive center available, allowing you to explore the underwater world of the surrounding area or even go snorkelling, jet skiing and sailing.
What adds to the beauty is the presence of neighbouring dolphins that can be spotted during a brief sunset cruise tour, organised by the resort. Besides this, you can also choose from unique experiences like secluded Sandbank Castaway dine out experience and outdoor BBQ, floating breakfast, wine tasting at the cellar, cooking classes with in-house chefs, and private movie screenings on the beach, amongst the others that can be tailored according to needs. Excursions to nearby islands and fishing trips can also be arranged.
Targeting the Indian traveller for the year ahead, the resort has further developed email marketing campaigns, geo-targeted social posts and also worked with prominent influencers to inspire travellers to head to the Maldives and Sun Siyam Resorts.
"We focus on public relations, storytelling and great content online and in print as well to convey our message. While sales and marketing activities focused on this subcontinent were always part of our strategy, in recent times we have amplified our efforts," Naufal affirmed.