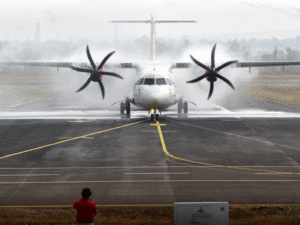 Regional carrier Star Air on Saturday commenced operations of its Embraer E175 jet on the Bangalore-Hyderabad-Jamnagar route, offering business class along with the economy. The airline said initially it will operate three flights per week (Tuesday, Thursday and Saturday) on the Bangalore-Hyderabad-Jamnagar sector with E175 with a second leg on the same sector on the Embraer E145 till May 23.
After that both the sectors for the day will be operated by the E175, it said.
With this launch, the airline has become the first regional connectivity scheme (RCS) operator to offer business class on this route.
Star Air's recently acquired 76-seater E175 jet comes in a two-class configuration-business class (12 seats) and 64 in economy.
Besides largely operating its flights under the regional connectivity scheme, the Kolhapur-based Sanjay Ghodawat Group-owned Star Air also operates some services on some of the non-RCS routes as well. "With the introduction of E175, Star Air becomes the only operator offering a business class product on UDAN-RCS routes, setting a new standard for regional air travel," said Shrenik Ghodawat, Director of Star Air.
The regional carrier which commenced operations in January 2019 currently has seven aircraft in its fleet-five E145 and two E175.
Star Air flies to 16 destinations–Ahmedabad, Ajmer (Kishangarh), Indore, Jodhpur, Kalaburagi, Mumbai, Surat, Tirupati, Jamnagar, Hyderabad, Nagpur, Bhuj, Bidar and Kolhapur from its two operational bases, Bengaluru and Belagavi.