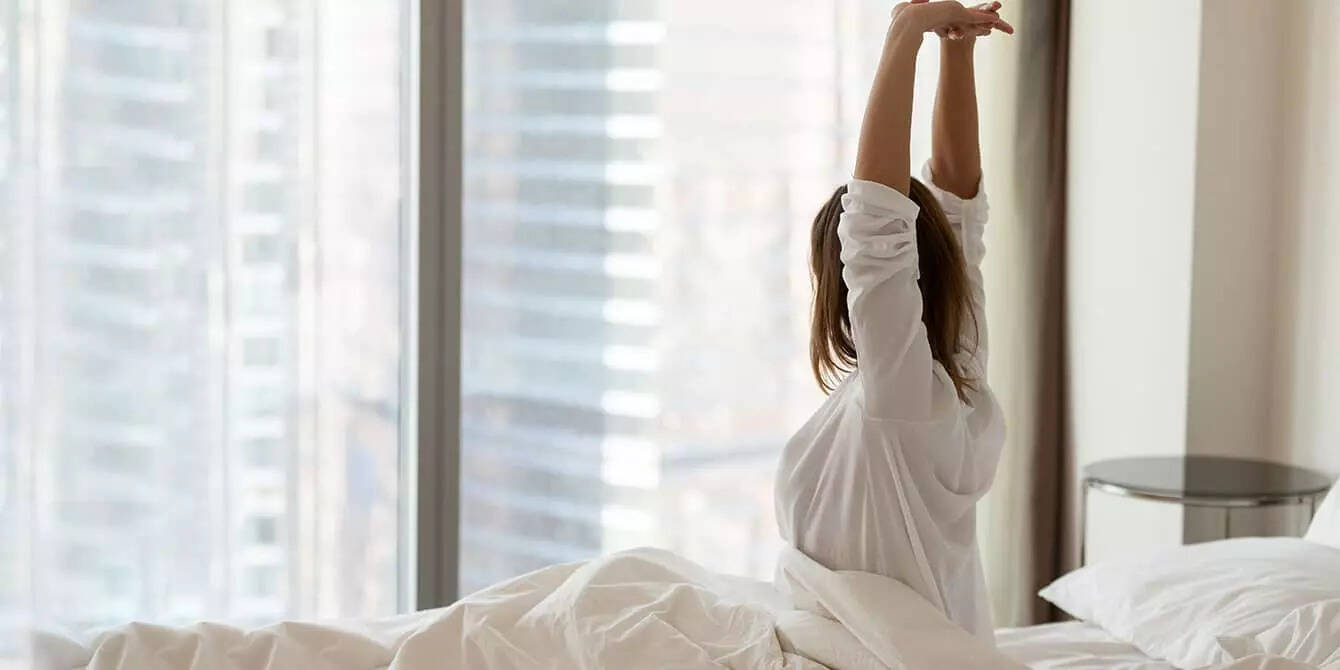 When it comes to planning a holiday, people typically think of adventure, breathtaking vistas, food, cultural sightings, or nightlife. However, with the emergence of sleep tourism as a trend, the concept of travel and sleep is gaining attention as a trend, with a renewed focus on self-care accelerated by the pandemic.
Also known as "napcations," sleep tourism has a primary focus on providing guests with a good night's sleep. Every aspect, from airports and hotels now offer sleeping pods and luxury suites, to activities and amenities centered around ensuring that visitors can rest peacefully, the emerging trend of sleep tourism is gaining traction in the travel industry and it's worth exploring why.
A concept trending out of necessity
Sleep is crucial for maintaining good health, and insomnia causes a number of detrimental effects for working professionals, such as lower job performance, lack of enthusiasm, mood swings, irritability, and other problems.
Due to these reasons, the novel holidaying style of sleep tourism has emerged as an exquisite respite for many people today, enabling them to de-stress, restore energy levels, and improve sleep patterns overall.
According to sleepadvisor.org, one in three adults across the world today has insomnia symptoms, with nearly one billion adults experiencing obstructive sleep apnea. In fact, 55 percent of Indians get less than six hours of uninterrupted sleep compared to the usual eight plus hours. However, a lesser-known fact is that sleeping 60 to 90 minutes more per night can make you healthier and happier.
Aman Naagar, MD of Avis India, explained that sleep tourism has gained traction due to the rising interest in health and well-being. During the pandemic, people reported a number of problems, and one such problem was securing good quality sleep.
"As the world resumed, stressful and hectic schedules became a part of everyday life, urging people to prioritize their wellness. Hence, people began traveling exclusively to sit back, unwind, and catch up on some quality sleep," shared Naagar.
Nishant Pitti, CEO and Co-Founder of EaseMyTrip, added that people are looking for a much-needed sleep vacation for their mental health and are willing to plan trips to relax and sleep well amidst beautiful surroundings.
"This trend is becoming increasingly popular and is expected to become the new norm in the travel industry," Pitti stressed.
Personalised Sleep Amenities
India, with its diverse and expansive topography, offers a plethora of serene locations that guarantee serenity and peace. From the Himalayas, deep forests and wildlife reserves to coastal regions, there are a variety of stays and spots that are ideal for sleep tourism.
To escape from the noise engulfing urban life, tourists and travellers have frequently chosen locations such as Kinnaur, Parvati Valley and Manali in Himachal Pradesh, while Uttarakhand's Mussorie remains a favourite with exclusive resorts and spas for an ideal stay, said Naagar. Leh has emerged as another hotspot attracting tourists especially for its quiet and tranquil environment that allows deep sleep, rest and rejuvenation.
Pitti added that Dooars in West Bengal, Nako and Tosh in Himachal Pradesh, and Mayurbhanj in Odisha are popular due to their scenic landscapes and serene environments.
Travellers highly prefer peaceful environments, picturesque views, and pleasant weather, as well as amenities like soundproof rooms, nap consultations, recorded sleep meditations, targeted spa treatments, pillow menus, and sleep concierge services, Pitti said.
Hotels and resorts have started incorporating sleep-related amenities into their offerings. Six Senses Hotels offer programmes for travellers specifically curated for activities related to sleep. In India, the Belgadia Palace in Mayurbhanj offers specially curated sleep packages.
Globally, Zedwell in London and Park Hyatt in New York offer sleep concierge services along with sleep-simulating facilities.
According to featured reports, the Park Hyatt launched the Bryte Restorative Sleep Suite, featuring new 900-square-feet rooms dedicated to rest. The highlight of these rooms is the Bryte mattress with 90 intelligent cushions that adjust to and relieve pressure points. It controls the climate, tracks and provides sleep statistics and responds to couples' unique needs, with data accessible through a smartphone app.
Further, some hotels have also incorporated sleep-related amenities to their offerings, while many resorts have begun incorporating therapeutic wellness packages, leveraging yoga, Ayurveda and other practices to ensure a rejuvenating experience for travellers.
In the lap of nature
Green surrounds also play a crucial role in attracting people to sleep tourism, avowed Naagar. People living in cities often complain of rising pollution levels amidst severe global warming concerns, which is why jungles, forests, and destinations with ample green-cover appeal to them.
"The backwaters of Kerala surrounded by trees, the lush green tea-gardens of Darjeeling, vegetation across the mountainous Pelling, and many other locations across the country that boast a vast flora and fauna become ideal for people choosing a vacation to relax and replenish."
The mode of transport that people choose while going for a relaxing vacation has also changed, said Naagar. To avoid the fatigue that can accompany lengthy waiting lines at airports and train stations, travellers have shown a rising interest in destinations that are accessible by road. Road travel via self-drive cars, rentals and chauffeur-driven cars have increasingly become popular, especially in continuation of the post-pandemic revival.
Pitti, on the contrary shared that the travellers opt more for flights to save time and catch up on their sleep while vacationing.
Sleep tourism looks like a welcome trend in the travel industry with a lot of opportunities that can be capitalised. As more hotels and resorts begin to offer sleep-related amenities and programs and the concept is being promoted through standalone, customised travel packages, the sleep tourism trend will continue to grow in popularity and is here to stay in 2023.