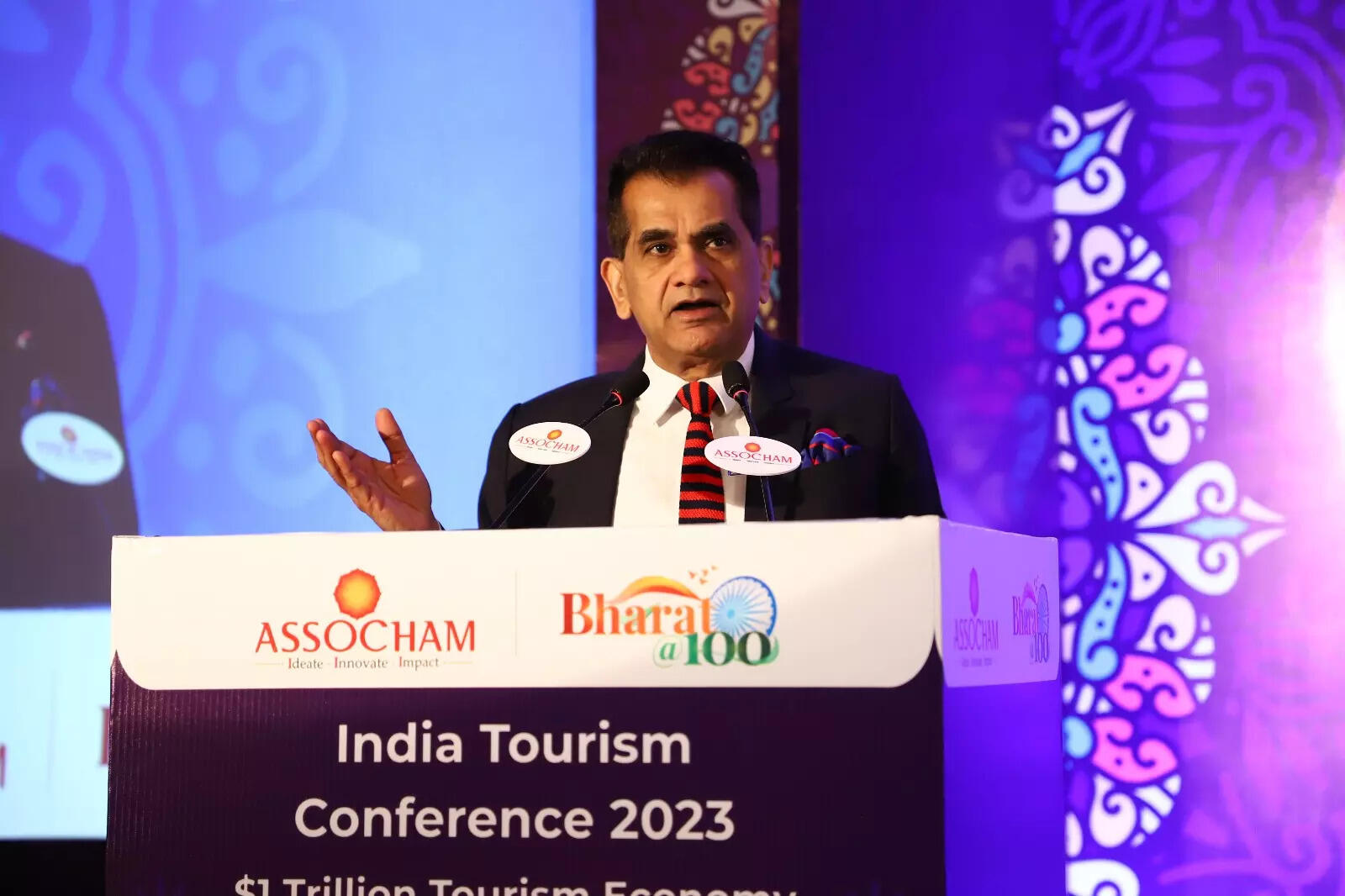 At the recent India Tourism Conference organised by ASSOCHAM in Delhi, G20 Sherpa and Former NITI Aayog Chairman Amitabh Kant said that tourism will be a key driver of growth and digital transformation has been one of the key drivers of India's economic growth in the country.
"Tourism sector is not only a driver of growth but also a driver of job creation and employment, having a significant impact on handloom, handicrafts, & culture. Indian tourism will get a boost if every state creates unique products and positions its products in the global market. India will be the youngest country in the world by 2047, with the average age of the population between 30 to 31. At that time, India will be the provider of almost 25 percent of the workforce in the world," he said.
He added that India should be positioned as an experiential, sustainable & green destination. Digital transformation in driving growth for tourism and the economy is very important.
"Nature of travel and tourism has changed, from the British and American in the 50's to the Japanese in the 70's, Koreans in the 90's and the Chinese in the 2000's. The 2030's and 40's will be the era of Indian travellers which will redefine the world. It is also important for India to build unique experiences around the country so that Indians can re-discover India. From Bali to NY to Switzerland, Indians are becoming the key drivers of hospitality in many ways. There cannot be a better sector to create jobs than travel and tourism. It has a massive direct and indirect multiplier impact, along with job creation, handloom, handicraft and culture all benefits. India is unique and should be positioned as an experiential, sustainable and green destination." he reiterated.
"We are passing through turbulent times in the post-covid era with almost 200 million people having gone below the poverty lines and about 100 million people losing jobs. One-third of the world is in recession according to IMF and 75 countries are facing a global debt crisis. Then there is the need for climate action and climate finance and if we are to miss the 1.5 degrees centigrade target by 2050, the earth may survive but humans will go extinct. We are midway through the Sustainability development goals and the world has regressed instead of progressing. But every challenge is an opportunity to do radical things and restructure the world and take it forward. Despite various differences we all come from one cosmic web and poverty in one part of the world has an implication on another part of the world. It is important that when leaders of the world meet, India sends out a message of peace and progress with humanity at the center stage," he added.Delivering the Keynote address, Alfred F. Kelly Jr, Executive Chairman, Visa Inc. said, "The travel and tourism industry has always been a crucial sector in the world economy, facilitating family visits, turning dreams into reality, and creating lifelong memories for people. Pre-pandemic, it accounted for 10 per cent of global GDP and generated over 320 million jobs worldwide. With most pandemic concerns now behind us, the sector is poised to play a pivotal role in driving the recovery of the global economy. As borders re-opened and restrictions relaxed, Asia-Pacific has rebounded to 46 per cent of its 2019 levels and 64 per cent excluding China and Hong Kong as destinations. India is outpacing popular destinations in the region, including Australia, Japan, and Thailand, having received 6.2 million visitors in 2020. The rebound in visitor numbers is on track to fully recover in mid-2024."
USD 1 Trillion Tourism Economy- Technology as enabler was the key theme at the conference. An engaging panel discussion on the theme was the key highlight where important stakeholders and industry stalwarts such as Anuurag Arora, Co – Chair, National Tourism Council, ASSOCHAM & SVP & Global Lead, Indian Government Business, VFS Global. Mohit Gopal, Chief Operating Officer – PayU, Aashish Gupta, Consulting CEO, Federation of Associations in Indian Tourism and Hospitality (FAITH), Lokendra Saini, Chief Operating Officer, Ease My Trip.com, Viney Tyagi, Hony. Joint Secretary-Indian Association of Tour Operators (IATO) were the key contributors.