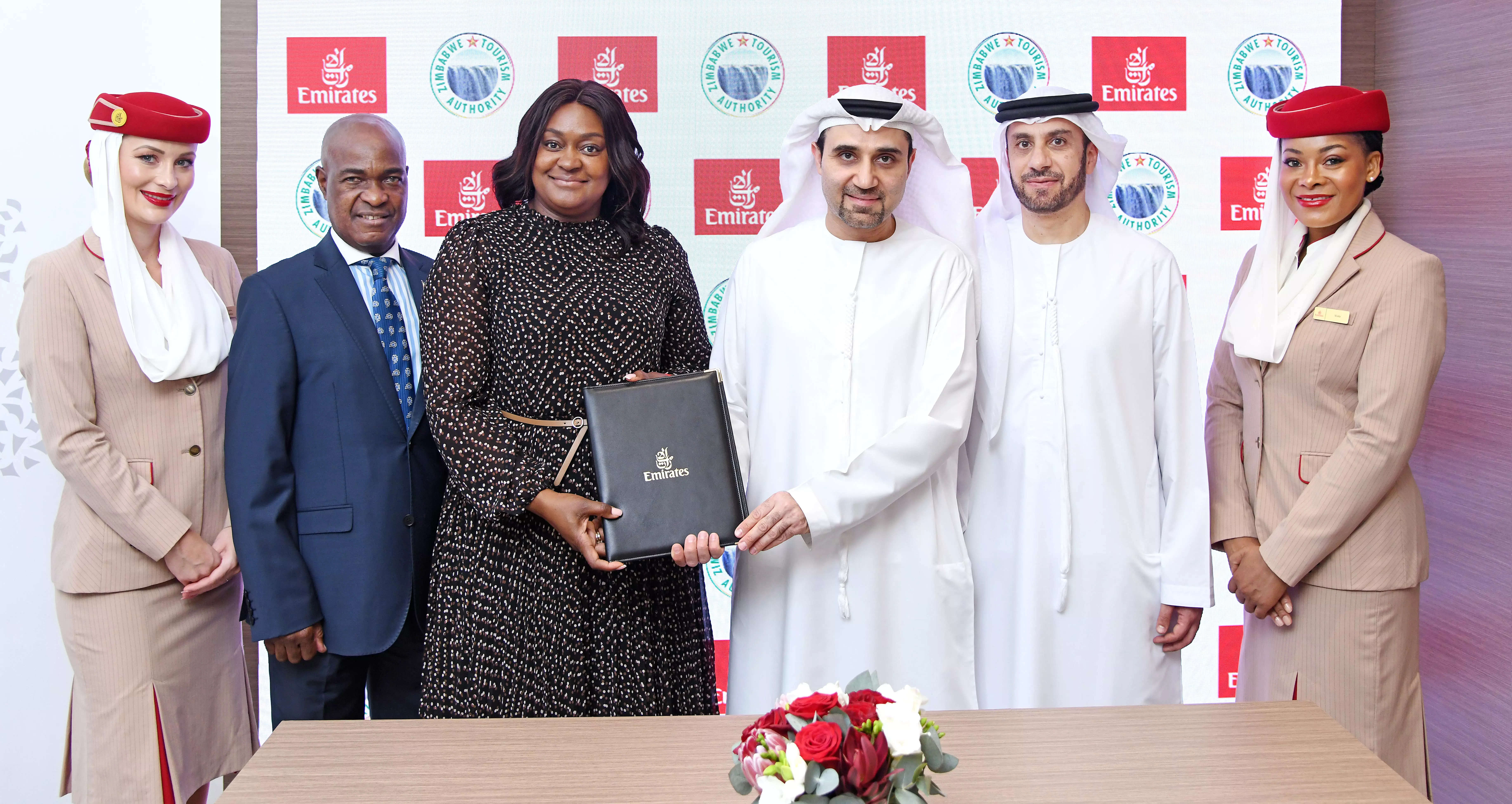 The UAE flag carrier, Emirates has signed three Memorandum of Understandings (MoUs) with the Ministry of Tourism Indonesia, the Moroccan National Tourism Office and the Zimbabwe Tourism Authority to strengthen the existing partnerships and promote inbound travel to these destinations.
The first MoU signed with Indonesia's Ministry of Tourism and Creative Economy will continue the airline's support for Indonesia's travel and tourism sector, according to the airline's issued official statement. The MoU entails launching joint marketing campaigns and initiatives to promote Indonesia as a varied and exciting travel destination and facilitating tourism flows from significant markets in airlines' global network such as the UK, US, Germany, France, Italy and Spain.
This comes in line with the airline's previously announced partnerships with Garuda Indonesia and Batik Air in 2022, that offered increased connectivity to 29 additional domestic cities beyond Jakarta and Denpasar for travellers.
To stimulate more inbound traffic from Indonesia, Emirates will now deploy its flagship A380 from June 1, 2023 to Denpasar to serve growing customer demand to the popular destination.
Second in line was Emirates' partnership with the Moroccan National Tourism Office that aimed at boosting the inflow of visitors and strengthening Morocco's appeal in new and existing source markets across the airline's network.
According to the official statement, both parties will map out and explore cooperation around a series of shared marketing activities, including familiarisation trips to Morocco, promotional plans, advertising campaigns, and joint activities with trade partners in key identified markets within the GCC, West Asia, Indian Ocean and the Far East.
Morocco has taken significant strides in establishing itself as a popular travel destination and continues to witness an increase in tourist arrivals having welcomed 11 million tourists in 2022 and a 17 percent growth in 2023 first quarter.Emirates said that it has been instrumental in supporting inbound tourism to domestic points in Morocco like Agadir, the historic western city of Marrakech, Tangiers and had signed codeshare agreements with Royal Air Maroc in May 2022, offering customers seamless connections and more choice across both airlines' networks.
Emirates recently began deploying its flagship A380 to Casablanca to meet increasing travel demand in and out of Morocco. Besides, the airlines' customers can access 17 destinations in Morocco beyond Casablanca.
Further, recognising Zimbabwe's potential and attractiveness as an emerging destination, Emirates will work with the Zimbabwe Tourism Authority to boost inbound tourist arrivals utilising the strength of the airline's global network. The partnership aims to set in motion a range of joint marketing efforts including tourism promotions, among other activities.
Both parties will also explore opportunities for joint advertising campaigns in key markets. Under the agreement, Emirates along with the Tourism Authority of Zimbabwe, will set in motion a range of joint marketing efforts, among other activities.
Emirates currently operates 28 weekly flights to Denpasar and Jakarta in Indonesia, daily flights to Casablanca in Morocco, and seven weekly flights to Harare in Zimbabwe, linked to Lusaka, Zambia.
The Memorandum of Understanding (MoUs) were signed by Badr Abbas, Emirates' Senior Vice President Commercial Operations for Africa and Orhan Abbas, Emirates' Senior Vice President, Commercial Operations Far East along with Winnie Munchanyuka, Chief Executive, Zimbabwe Tourism Authority (ZTA), Adel El Fakir, MNTO's (Morocco) Chief Executive Officer and Ni Made Ayu Marthini, Deputy Minister for Marketing, Ministry of Tourism and Creative Economy of Indonesia.
All the three MoUs were signed on the sidelines of the ongoing Arabian Travel Market (ATM) in Dubai.