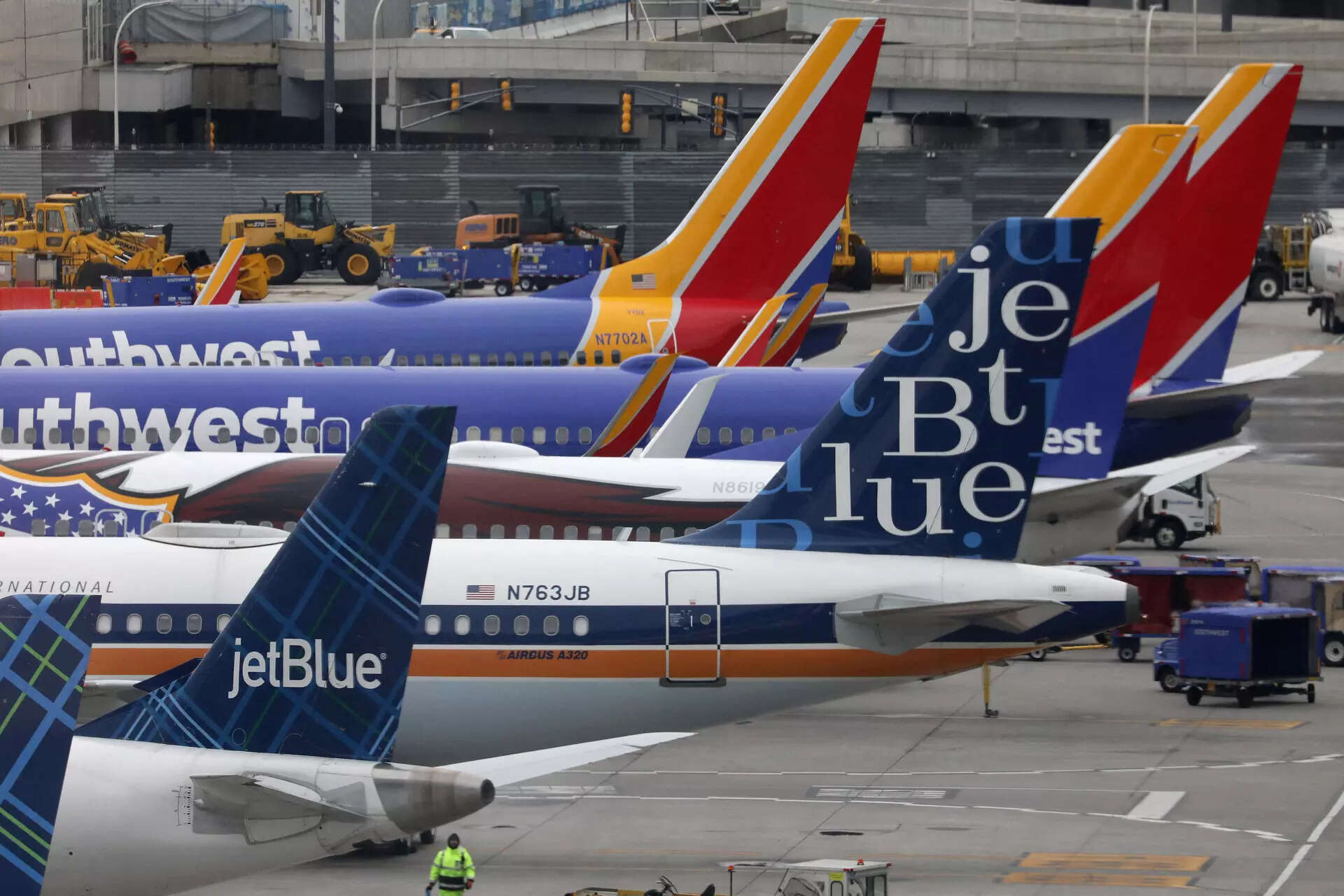 Most US airlines lost money in the first quarter, traditionally the weakest time of year for travel, but they are all eagerly looking ahead to a summer of full planes and high fares.
American Airlines and Southwest Airlines said on Thursday that they expect to be solidly profitable in the second quarter. They joined Delta Air Lines and United Airlines in giving an upbeat outlook for the April-through-June period, which includes the start of peak season for carriers.
"We see a strong demand environment this summer, and we're highly confident that will continue," American CEO Robert Isom said on a call with analysts.
Airlines are getting a tailwind from leisure travelers, who are still eager to leave home after a long pandemic lockdown. Their gaze is shifting this summer from domestic destinations to overseas.
"Demand is smoking hot for international destinations," said Ryan Green, Southwest's chief commercial officer, "and then it's the typical summer destinations that you would expect – Florida, the Southwest, Hawaii."
Southwest lost USD 159 million in the first quarter, which it blamed on fallout from a December meltdown that continued to hurt bookings early into this year. The airline said that it made money in March, however, as revenue picked up, giving it momentum heading into summer.
American stood out from its peers by eking out a USD 10 million profit for the first quarter as revenue jumped 37 per cent from a year earlier. The airline predicted second-quarter earnings per share that would easily beat Wall Street expectations.
American cited strength in both domestic and international bookings. In the last two weeks, both Delta and United posted large losses for the first quarter but also spoke in glowing terms about the summer outlook.
Air travel began to rebound from the pandemic last year, and that has carried into 2023. The number of travelers screened at US airport checkpoints in January, February and so far in April exceeded the same months in pre-pandemic 2019.
There was a brief scare about bookings slowing down a few weeks ago, and United said it saw a temporary drop in sales to corporate travelers after the failure of Silicon Valley Bank raised fears of a widespread banking crisis.
Both concerns seem to have subsided, however. Delta CEO Ed Bastian said he saw no impact on bookings after scary headlines about bank failures and tech-industry layoffs.
Airlines do face headwinds, however. Costs for labor and jet fuel are up, and airlines can't get all the planes they want because of production problems at Boeing that will delay deliveries of new 737 Max jets.
Southwest planned to take 90 Max jets this year but now expects to get only 70. That will cause the airline to hire fewer new workers, CEO Robert Jordan said.
Jordan said Southwest had planned to hire 7,000 people this year. He did not say how much that number will be cut. Southwest is Boeing's biggest airline customer, and its fleet consists entirely of 737s, while American uses both Boeing and Airbus jets.
"Fortunately with this latest issue with the Max, we haven't had to make too many changes," said Isom, the American CEO. "Boeing has been a great partner … we need them to get their act together."
American, based in Fort Worth, Texas, said Thursday that its profit excluding one-time items was 5 cents per share, a penny better than analysts predicted after the company lowered expectations two weeks ago. American said it expects to earn between USD 1.20 and USD 1.40 per share in the second quarter, which would beat analysts' average forecast of USD 1.04 per share in a FactSet survey.
The airline continued to pay down debt, which peaked at more than USD 53 billion in mid-2021. American ended March with USD 14.4 billion in liquidity – cash, short-term investments and available credit.
"We have some flexibility with this excess liquidity to either further invest in the business or potentially use it to pay down debt at a faster rate," Chief Financial Officer Devon May said in an interview. "That's a decision we will be making in the coming months."
Southwest had already indicated it would lose money in the first quarter. Thursday's loss was narrower than Southwest's USD 278 million loss a year earlier. After one-time items, it worked out to 27 cents per share, matching Wall Street expectations.
Revenue rose 22 per cent to a first-quarter record of USD 5.71 billion, slightly less than analysts expected.
Dallas-based Southwest said the winter breakdown cost USD 380 million in the quarter from lingering lost bookings and extra expenses – on top of USD 800 million in last year's fourth quarter. Southwest failed to bounce back after a winter storm just before Christmas, and its problems were compounded when its crew-rescheduling system broke down, leading to 16,700 canceled flights in a 10-day stretch.
Southwest's average fare was USD 169, up USD 10 from a year ago. American doesn't provide the same figure, but it said that passengers paid 21 per cent more for each mile they flew.
Airlines are counting on that kind of pricing power continuing and growing into summer. Strong demand for tickets and a limited supply of flights are keeping average fares high, which will boost airline revenue. But the carriers are facing higher costs for labor and fuel, plus the possibility of a recession that could hu.1t ticket sales.
Shares of Southwest closed down 3.3 per cent while American gained 1.1 per cent.